Source: VAKBLAD ONDER GLAS, 29 MEI 2019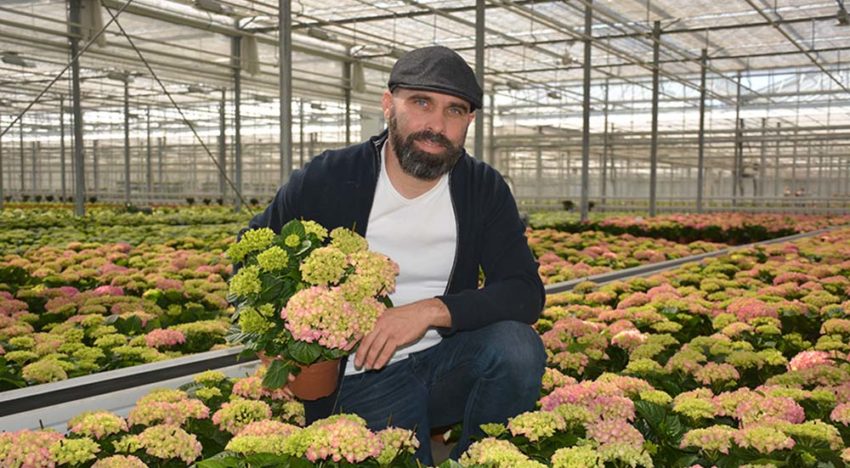 The delivery process at the Dijk van Dijk hydrangea nursery was almost completely automated a few years ago. This saves Robin van Dijk a lot of labour costs. The biggest gain, however, lies in the fact that the entrepreneur has more control over his processes, which benefits delivery reliability and business continuity. In this way, they also 'arm' themselves against the growing shortage of personnel. His supplier notices that such 'soft' and less objective factors are convincing more and more growers to invest in automation.
Until two years ago, order picking and preparation for delivery was an extremely laborious and labour-intensive activity at Dijk van Dijk in De Lier. The employees collected the various colours and types of hydrangea for a particular order manually and often had to walk from one cap to the next. "We supply garden centres and florists via exporters", says Robin van Dijk. He is the general manager of the company, which comprises approximately 10 ha of glass and 5 ha of container field.
"We see that the order size has been decreasing in recent years, but that customers order more often and delivery must be quicker. This fragmentation made order picking and preparation for delivery more and more laborious." In addition, the number of operations per product increased, as more and more customers want their own sleeves and labels. "As a result, the order picking norm was lowered, employees got in each other's way and processed fewer plants per hour. We lost control of the delivery process and the controllability was hard to find."
Saving on logistics
The grower sat down with WPS to look at the possibilities of automating the delivery process. This eventually resulted in a system that automated both the transport of the ready-to-deliver hydrangeas and the order processing. In concrete terms, this means that the company works with a week buffer of forty to fifty thousand ready-to-deliver plants. This is filled from the various cultivation locations. From this week buffer, the hydrangeas are transported, via conveyor belts, to the daily supply buffer in the adjacent greenhouse.
"All our types and colours are in stock in this buffer," explains Van Dijk. "We enter every order we receive into an order processing system. Based on this system, and the RFID chip that each plant is equipped with, an order is automatically compiled from the buffer. The plants in question are transported via conveyor belts to a specific packing station, where a packer is located. This means that a customised order is automatically sent to a packing station and the plants are sent to the employees, instead of the other way around. In this way, we save a lot of logistic work."
More peace and quiet and an overview
It goes without saying that Van Dijk drew up a business case before purchasing the automation system. He counted on a payback period of seven years. "This period was mainly based on the labour savings that we expected to achieve through automation. By working more efficiently, an employee would be able to pack 90 plants per hour instead of 45, which is something that appears to be the case in practice. This saves us five to six FTE's and allows us to recoup the investment in a maximum of seven years. But I do assume that the system will last at least ten to fifteen years in practice."
However, this reduction in labour costs was not the most important reason for the entrepreneur to automate. "The biggest gain lies in the fact that there is now more peace and quiet in the greenhouse and that we have full control of the delivery process again. This also benefits quality and service. This is important, especially since customers have been setting more and more custom requirements for their products over the past two years. Moreover, there are more and more peak moments in the incoming orders.
Labour is scarce
"Without this system, the labour costs per plant would undoubtedly have increased further and we would probably no longer have been able to provide the quality and service that we want to stand for," continues the entrepreneur. "By automating, we can guarantee our delivery reliability and thus the continuity of our company. Such factors are difficult to measure and weigh in a business case, but they are of decisive importance".
Van Dijk also sees the fact that labour is becoming increasingly scarce as an important prelude to automation. "A few years ago, I did not foresee that it would be so difficult to find people. In this context, it is an advantage that we need fewer employees and that we can offer them better working conditions. Carrying hydrangeas and carts is quite heavy. "Because we can now offer more pleasant work, it is easier to find and keep people. The same applies to the fact that, because we work more efficiently, we have to work less overtime."
Difficult to quantify
According to Digna van Zanten, managing director at WPS, the story of the Van Dijk is not an isolated one. More and more entrepreneurs are looking beyond factual, objective figures when making the choice to automate. "Most growers realise that they need to automate in order to save labour and offer their staff better working conditions. Such 'soft' factors are therefore becoming more and more important: entrepreneurs no longer make decisions solely on rational grounds, but also on the basis of their feelings.
According to Van Zanten, it even happens regularly that growers opt for automation, while the business case is not very favourable. "However, it should be borne in mind that the added value of 'soft', less objective aspects - such as rest and overview, better ergonomic working conditions and easier recruitment of personnel - are difficult to quantify. If that were possible, the business case would probably be a lot more attractive."
Lean Six Sigma method
According to Van Dijk, a point of attention is that many employees have difficulty with all the changes that automation entails. "The whole way of working is changing and the fact is that most people don't like change. As an entrepreneur, you have to be aware of this and take it into account. That's why it's important to reserve time for fine-tuning the new organisational structure and the system." Van Zanten acknowledges this. "This will take at least a year."
In order to ensure that the automation system runs optimally and that the processes within the company fit in as smoothly as possible, the hydrangea company uses the so-called Lean Six Sigma method. This is a strategy for taking steps in the area of quality and efficiency. "In concrete terms, this means that we meet up with our employees several times a week to see what everyone is up against and which things can be improved. If you all think about this, it is easier to take steps forward and optimize processes. This is often found in very simple things. We saw, for example, that sometimes plants fell off the conveyor belts. This was easily solved by keeping a certain door closed, so that the wind in the processing area was just a little less. A lot of these small steps can lead to big improvements and really make a difference."
Summary
Hydrangea grower Robin van Dijk automated his delivery process a few years ago. This saves him five to six FTE's. Even more important for the entrepreneur is that he now has more peace and quiet and can offer his customers the quality and service he wants. The shortage of personnel also has less impact on the company. Such considerations are increasingly important for growers when deciding whether or not to automate.
Text and image: Ank van Lier.