For years they have been one of the most recognizable elements of our customers' logistic systems in pot plant cultivation: the woven transport belts. They are the way to transport plants over long distances and the basis of many plant buffer systems. Yet there are still elements that can be improved on such an apparently simple product. Weaving and choice of material are determinants for e.g. stretch, wear and tear and straight running of a belt.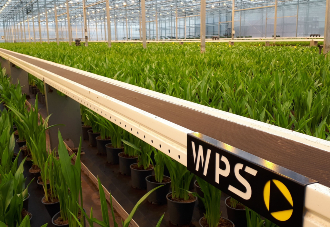 With our new 100 mm belt, WPS sets the new standard for transport belts. The unique weaving of the WPS belt has been further optimized and strengthened. Where previously intensively used tracks accelerated wear and tear or misalignment occurred, this is now a thing of the past with the new belt. After extensive testing in cooperation with our customers, the new belt is ready for launch.
The new 100 mm belt is characterized by the woven, colored piping along its length. This color coding corresponds to the production batch. With this form of 'track & trace' it is always possible to trace when and under what circumstances the belt in question was produced.
From now on, we will apply the new 100 mm belt in all new projects, replacements by our service department and loose deliveries. You can also order the belt in our webshop: http://webshop.wps.eu/. For any questions you can contact us via sales@wps.eu.