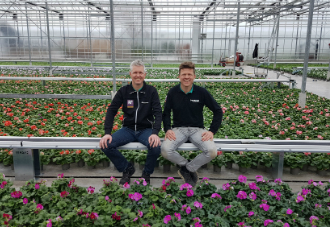 At the nursery at the Sprongenloet in Honselersdijk, The Netherlands, Ammerlaan-Sosef grows various varieties of Celosia and Primula. In order to further improve the sorting and delivery system, they opted for a WPS solution.
Buffer expansion and upgrading
The number of gutters in the renewed buffer will be practically doubled and will to a large extent be continued on the existing buffer. Plants in the delivery buffer will receive water in the gutters. The system will be integrated with the WPS SmartFlo system installed earlier last year.
Plant Vision Technology
The use of plant vision makes it possible to have the species/color change carried out automatically. The RGB camera (top and side view) and WPS software enables the system to analyse a large number of plant properties at high speed. Next, the assessed plant is transported to the assigned buffer lane or packing station.
About Ammerlaan-Sosef
Ammerlaan-Sosef is a modern pot plant nursery right in the heart of horticulture, the Westland. Ammerlaan-Sosef was founded in 1999 after Ard Ammerlaan started a collaboration with son Jeffrey and employee Gertjan Sosef. After the original cultivation of Ard, pot Chrysanthemums and Celosia Caracas which he has been producing for years, Ammerlaan-Sosef now has an annual programme with Primula Touch Me/Sweet Kisses, Cyclamen and Celosia Deep Purple and various other types of Celosias, including the new Javalin and Vintage. Ammerlaan-Sosef is winner of the Dutch Flower Award 2018. More information.
Collaboration
WPS and Ammerlaan-Sosef have had a pleasant collaboration for many years. With this new assignment, the cooperation between the two companies is further intensified/confirmed. WPS and Ammerlaan-Sosef have jointly designed the new system. Ammerlaan Sosef is ready for the future with this extension.